I came across this idea in another blog.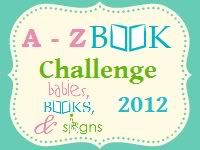 Its quite simple - all you need to do is read one book that begins with the letters in the alphabet in 2012 i.e. 26 books each beginning with one of the alphabets.
Its got me pretty excited and I have created my list - well, almost created it...its still a long way to go and I have yet to finalize the list and fill in some of the placeholders, but then this is the fun part (the reading will of course follow).
So here's my list that I have come up till now -
A -
Adverbs
Couldn't wait till the New Year to start on this book .. now have to find a new one
(updated Dec 12th)
B -
Buy-o-logy
Swapping this one for Bhagavad Gita to show my support after the proposed ban ( see my post )
BELOVED by Toni Morrison
C - Catch 22 or Catcher in the Rye...yet to finalize this one
D -
Diary of a Wimpy Kid?
E - Extremely close & incredibly loud
F - Fast Food Nation
(Depends if I will get a copy here..)
I got this delivered by Flipkart (200bucks) and its on my shelf all set for reading.....
G -
Great Indian Novel, The
H, I, J - not yet decided
K - Kafka on the Shore
L -
Liar's Poker or Life is Elsewhere?
Life and Times of the Thunderbolt Kid, The
M - Money
N -
Neither here or there OR
Not on the Label
(
dropped these options - being frugal is 2012's mantra!!)
O - One flew over the cuckoo's nest
P - Pappilon
Q -
Quarantine
R -
Rich Dad Poor Dad
Ronald Dahl, Best Of
S -
Strong Medicine OR Screw it, Lets do it?
Selected Works of Sir Aurthur Conan Doyle - Sherlock Holmes
T - To kill a mocking bird (I have to have this one in the list, although there's really tough competition for "T")
U - Unaccustomed Earth OR Until I find you?
V - Vanity Fair (There has to be a classic)
W - Wish You Well?
X, Y,
Z -
Zen and the Art of Mortorcycle Maintenance (finally I think after hearing so much about this book, I will finally read this one)
Zero Percentile 2.0 [got this in a giveaway]
So there is a lot of work still cut out for me, but I am still happy with some of the choices, but its a WIP so will be updating it soon and hopefully will have a fair mixture of all genres of book....Excited (rubbing my hands at the mere thought of it)